Center Events

The mission of the Korea Law Center is to promote practical solutions to problems arising at the intersection of U.S. and Korean Law.
To join the Korea Law Center mailing list, send an email with "Subscribe" in the subject line to
KLC@law.uci.edu
.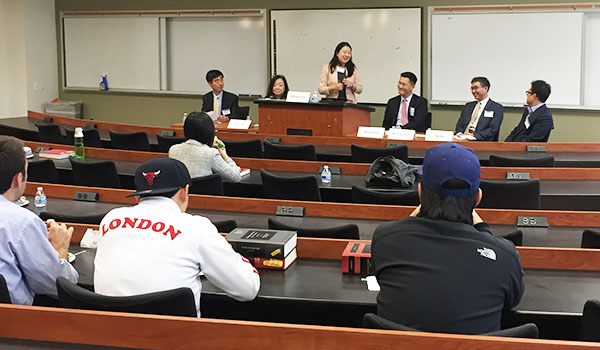 Upcoming Events
UCI Korean American Leadership: On March 29, 2018, UCI Korean American Alumni Chapter (UCI KAAC) celebrates Korean American Leadership with special guest, UCI School of Law Dean L. Song Richardson. Details >
Previous Events
E.Y. Park on International Arbitration: On March 12, 2018, Dr. Eun Young (EY) Park, Vice President of the London Court of International Arbitration, will present: "Challenges, Pitfalls, and Strategies in International Arbitration." Co-sponsored by GLAS. Details >
Korea Law Center Public Lecture: On January 31, 2018, Seoul National University President and Professor of Law Nak-in Sung met with UCI leaders and gave a talk on the recent proposals for Constitutional reform in South Korea. View photos of the event here.
Korea Law Center Visiting Scholars Talk: On November 7, 2017, Korea Law Center Visiting Scholars Judge Chong-Chan Won, Judge Jong-Khil Lee, and Judge Kyoung-Eun Ryu gave a talk titled "Introduction to Korea's Criminal Procedure and Sentencing Guidelines."
Korea Law Center Visiting Scholars Talk: On October 3, 2017, Korea Law Center Visiting Scholar Professor Ha-Yurl Kim, a constitutional law professor from Korea University Law School gave a talk titled "On the Presidential Impeachment in Korea and the Democracy-Backed Rule of Law." This is the first in a series of talks where Korea Law Center invites its visiting scholars to discuss their current research and insights.
KLC/CKA Conference: Mentoring the Next Generation: Saturday, September 30, 2017 at the UCI School of Law, 
co-sponsored by UCI Law's Korea Law Center and the Council of Korean Americans. More details >
Summer Internship Opportunity: 2017 Council of Korean American and Korean American League for Civic Action Public Service Internship Program
In the fall of 2016, the Korean American League for Civic Action (KALCA) joined CKA to form the CKA-KALCA Public Service Internship (PSI) Program. To solidfiy this joint venture, outstanding undergraduate and graduate students, as well as recent graduates will be selected for next summer's 2017 PSI program through a competitive process. Students will receive scholarships of $3,000 to $5,000 (based on need) to intern full-time for ten weeks in government offices, leading NGOs, and public interest groups in Washington, DC or New York City. For more information, please visit here.
CKA Public Discussion on North Korea with Ambassador Wendy Sherman: Wednesday, May 24, 6:00 - 8:00 p.m., The Jonathan Club, 545 South Figueroa Street, Los Angeles. More details >
Embrace Unity - Symposium and Gala to Commemorate the 25th Anniversary of the LA Riots: Friday, April 28, UCLA Luskin Conference Center. More details >
Embrace Unity - Remembering Saigu: 25th Anniversary of the LA Riots: Thursday, April 27, 5:00 - 7:30 p.m. in 2070, UCI Division of Continuing Education. More details >
OC KABA, OC CELA, and KLC Speaker Event: Wednesday, April 26, 6:00 - 7:30 p.m. in EDU 1111 at the UCI School of Law. More details >
UCI Center for Critical Korean Studies & UCI Korea Law Center Present: "Freedom of Speech, Sewol Ferry, and Park's Impeachment," A lecture with Professor KS Park, Monday April 10, 5:00 - 6:30 p.m. in EDU 1111 Event flyer >
Speaker Panel: Careers in Transnational & Cross-Border Law: A conversation with five legal professionals whose work focuses on cross-border work in broader Asia. The panelists represented a variety of practices including intellectual property, entertainment law, complex business and corporate finance, and in-house counsel, February 1, 2017.
UCI Korea Law Center Public Lecture: "A Comparative Constitutional Law Conversation." Dean Erwin Chemerinsky (UCI Law) and Chaihark Hahm, professor at Yonsei Law School and Berggruen Fellow at The Center for Advanced Study in the Behavioral Sciences at Stanford University. Sponsored by the Orange County Korean American Bar Association and hosted by the Korea Law Center. December 7, 2016. View the event flyer here, photos of the event here, and the conversation in its entirety here.

UCI Korea Law Center co-sponsored event hosted by UCI Department of Asian American Studies (AAS): Conversation with Prof. Kim Park Nelson (Minnesota State University) "Native Informant: History and Community Building as a Within Group Researcher of Korean Adoptees," November 7, 2016.
UCI Korea Law Talks: Seungmo Koo "Treatment and Sharing of Digital Data," August 31, 2016.
UCI Law Presents: Dr. Kyuwan Kim (Dean of Korea University Law School), "Civil Law & Law School: The Korean Legal Education System for Legal Professionals," July 14, 2016.