Study Aids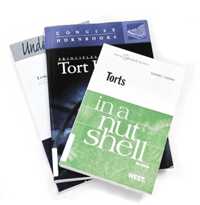 Written for a law-student audience, study aids can be useful as supplements to course readings and class sessions. For general questions about legal study aids, as well as tailored advice about supplementary readings, contact UCI Law's Academic Skills Office.
Online Study Aids
The UCI Law community can use three systems for online study aids. All systems work with major browsers like Chrome, Firefox, or Safari.
Print Study Aids
WHERE ARE THE PRINT STUDY AIDS?
Behind the Front Desk on the Reserve shelves. Come ask for them.
They can be used in the Law Library for two hours at a time.
Older editions—if available—are in the general Law Library collection. You can check them out and take them home.
WHAT TYPES OF PRINT STUDY AIDS DOES THE LAW LIBRARY HAVE?
For print, we focus on titles that are useful introductory texts, including many from the following series:
The Law Library also collects study aids that are written by UCI Law Faculty.
How do I find Law Library study aids?
SAMPLE SEARCHES
Any field: "legal study aids" and
OTHER STUDY AIDS
Use the "ADVANCED SEARCH" in UCI's Library Search:
Select "Any field," and type "legal study aids" in the text box.
Select "Title" or "Subject," and type a term or phrase for your course topic in the text box.
Click "Search."
For more study aids on your topic, change the second dropdown to "Any field," then type a term or phrase for your course in the text box.  This can find study aids that just have a chapter or section on your topic. 
What about other study aids?