From University of California, Irvine School of Law, the UCI Law Talks podcast series features smart conversation analyzing critical legal issues with professors at top-ranked UCI Law.
In this new episode, recorded during our popular event this week at UCI Law, Prof. Henry Weinstein moderates an exchange of views between Prof. Rick Hasen and Ed Whelan, former law clerk to Justice Scalia and president of the Ethics and Public Policy Center (EPPC), on the future of the Supreme Court and the 2016 elections.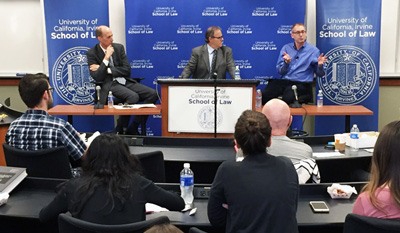 The UCI Law Talks podcast series is available on iTunes, SoundCloud and at
law.uci.edu/podcast. Follow updates on Twitter @UCILaw.
Join the conversation.
Download UCI Law Talks now: