Back to Top
Ricardo Lopez receives scholarship from OC Hispanic Bar Association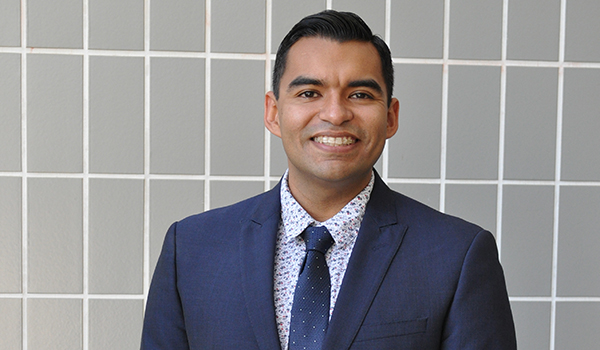 Ricardo Lopez '16 is among this year's Orange County Hispanic Bar Association's Wally Davis Scholarship recipients and will be recognized at the OCHBA's Annual Scholarship Fundraiser & Installation Dinner on March 5, 2016.
The scholarship provides financial assistance to Orange County Latino students currently enrolled in law school, who have demonstrated involvement in the Latino community. It was named in honor of the late Wallace (Wally) R. Davis, one of the first Hispanic attorneys in Orange County and co-founder of the HBA.
As a first-year student at UCI Law, Lopez participated in various pro bono projects in Orange County related to Deferred Action for Childhood Arrivals (DACA) applications. The following year he was elected co-chair of the Latino/a Law Students Association; was involved in the UCI Immigrant Rights Clinic, where he represented immigrant detainees at the Adelanto Detention Center in bond hearings; and served as the 2014-15 student liaison for the American Bar Association's Commission on Racial and Ethnic Diversity in the Profession. In fall 2015, he participated in the National Latino/a Law Student Association Moot Court competition in Chicago, where his team won Best Petitioner's Brief. He also externed for the Hon. Stephen Reinhardt, U.S. Court of Appeals for the Ninth Circuit, conducting extensive research surrounding immigration and habeas corpus issues.
"My desire to become a lawyer is heavily influenced by my upbringing," said Lopez, a first-generation Mexican-American. "When I was young we lived in a run-down apartment in the center of East Los Angeles. My mother worked in factories and strawberry farms, eventually settling in a casino where she worked the graveyard shift for most of my childhood. While she only has a third-grade education, her professionalism, in all settings, never ceases to amaze me. She taught me the values of sacrifice and hard work. Most importantly, she showed the importance of giving back to my community. As a Wally Davis Scholar, I hope to utilize my skills and knowledge to help improve the lives of people in underserved and marginalized communities — the same communities in which I studied and lived."
A Gates Millennium Scholarship from the Bill & Melinda Gates Foundation enabled Lopez to earn a B.A. in Latin American Studies and International Studies from Johns Hopkins University, where he also pursued an M.A. in American Government. He then worked at the National Institutes of Health, where he conducted qualitative research surrounding the effectiveness of childhood obesity programs in the United States. In an effort to learn more about the U.S. health care system, Lopez earned an M.P.H. in Health Policy from The George Washington University. After graduation from UCI Law, Lopez will continue his passion for health care law at Davis Wright Tremaine, LLP, where he will work as an associate in the firm's health practice group beginning in fall 2016.
"Ricardo is a special individual, on track to become a superstar in the legal community," said Linda Puertas, UCI Law Director of Academic Skills. "He is unfailingly pleasant to work with. He is bright. He works hard. And most of all, he is a natural leader."
Past UCI Law recipients of the Wally Davis Scholarship:
2015: Coral Lopez
2014: Marco Pulido Marquez
2012: Danila Toscano
2011: Francisco Balderrama
2010: Flor de Maria Tataje