Back to Top
Judge Stephen Reinhardt and Ramona Ripston Lecture on Civil Rights and Civil Liberties by Judy Clarke
"Standing on the Shoulders of Giants"
Friday, April 1, 2016
4:30–5:30 p.m.
Paul Merage School of Business Auditorium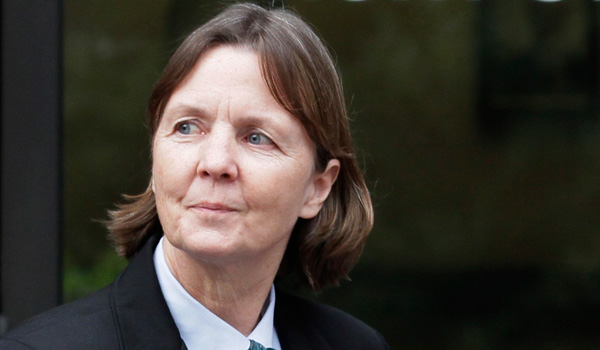 Judy Clarke is in private practice in San Diego, California. She has served as the Executive Director of Federal Defenders of Eastern Washington & Idaho and Federal Defenders of San Diego, Inc.; argued twice before the U.S. Supreme Court; and represented defendants in a number of high profile capital cases, including Susan Smith in Union, South Carolina; Theodore Kaczynski, charged as the "Unabomber"; Eric Robert Rudolph, charged with an abortion clinic bombing in Birmingham, Alabama; Jared Loughner, charged in the January 2011 shootings in Tucson, Arizona; and Dzhokhar Tsarnaev, charged in the 2013 Boston Marathon bombing.
Ms. Clarke is a 1974 graduate of Furman University, and a 1977 graduate of the University of South Carolina School of Law. She is a Past President of the National Association of Criminal Defense Lawyers, a Fellow in the American College of Trial Lawyers, was selected by the National Law Journal in 1998 as one of the top 50 women lawyers in the United States, and in 2001 as one of the top women litigators in the United States. She has been selected several times by the Los Angeles Daily Journal as one of the top 100 lawyers in California, and is included in the "The Best Lawyers in America" publication.
In 2015, the Ninth Circuit honored her with the Circuit's John Frank Award recognizing "a lawyer or judge whose life and practice display sterling character and unquestioned integrity, coupled with ongoing dedication to the highest standards of the legal profession and the rule of law."
About the Judge Stephen Reinhardt and Ramona Ripston Lecture on Civil Rights and Civil Liberties
Judge Stephen Reinhardt, U.S. Court of Appeals, Ninth Circuit, and Ramona Ripston, retired executive director of the American Civil Liberties Union of Southern California, have fought for and preserved civil liberties for decades, inspiring and influencing thousands of attorneys and activists. UC Irvine School of Law pays tribute to these two legendary advocates of civil liberty and justice through an annual, honorary lecture celebrating their contributions.
To request reasonable accommodations for a disability, please contact Crissandra Flores at events@law.uci.edu or (949) 824-0941