Back to Top
UCDC Law Program
The UCDC Law Program is a uniquely collaborative, full-semester externship program in Washington, DC. The program combines a weekly seminar-style course with a full-time field placement to offer law students an unparalleled opportunity to learn how federal statutes, regulations, and policies are made, changed, and understood in the nation's capital. During four months' total immersion in the theory and practice of Washington lawyering, students will have contact with all three branches of the federal government, independent regulatory agencies, and advocacy nonprofits.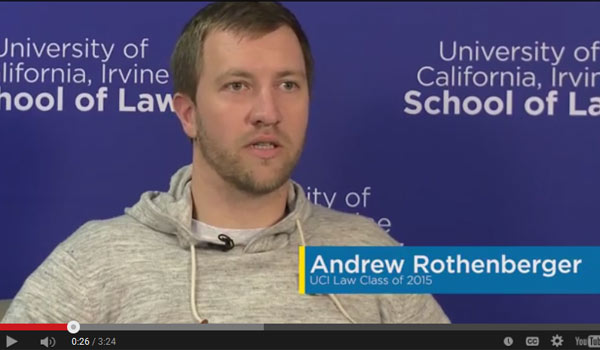 General Information
The program includes law students from Berkeley, UC Davis, UC Hastings, UC Irvine and UCLA. Students will receive 13 units for successful completion of the program: 10 units for the field placements and 3 units for the required companion course, "Law and Lawyering in the Nation's Capital."
As of now, there is no cap on enrollment. The program typically enrolls between 15 and 35 students. The program is housed at the University of California Washington Center, a UC facility located at 1608 Rhode Island Avenue, N.W., just minutes from the White House and most government departments and agencies.
UCDC Director Nicole Lehtman visits UCI each semester, often in September and February. Ms. Lehtman gives a presentation during the lunch hour and is available to meet individually with interested students throughout the day. Notices about the specific date of her visit will be posted around the law school.
More information on the UCDC Law Program web site
Seminar Description
Students' externships in the UCDC Law Program have two main components: full-time lawyering at the externship site, and the 3-credit once-a-week evening companion class.
The seminar is designed to enhance the externship experience in three principal ways. First, students will learn about the process of federal lawmaking directly from leading government lawyers, lobbyists, and public interest advocates. Second, they will explore new career opportunities unique to lawyering in Washington, even as they enhance their skill sets for success in any career path. Third, they will investigate the unique roles of lawyers in making and changing federal law and policy.
Class sessions include frequent guest speakers and class discussion based on students' questions. Part of each session will be devoted to a "grand rounds"-style exchange to facilitate peer-to-peer learning about lawyering at the broad range of externship sites. Each student will write a final paper on a legal topic relevant to the externship, selected in consultation with the instructor and the externship supervisor. The final classes of the term are devoted to student presentations on their externships or their final papers in progress.
Application Process: Three Steps
Step One: Apply to the Program Itself
This application will allow you to work with the UCDC Law Program Director to identify the placements that will best meet your goals and preferences.  You may not apply directly to placements until you have been approved for participation by the UCI Dean of Students.  You may not accept any offer until you have spoken with the UCDC Program Director and she has approved the placement.  Apply to the Program as early as possible in the semester before you want to participate.
Confirm that you are eligible and have permission to apply:

The academic rules for full-time externships apply to UCDC. 
Fourth and fifth semester students are eligible; exceptions may be made to the policy to allow third & sixth semester students to participate.  First year students are not eligible.
Obtain the approval of the Dean of Student Services. To do this, complete the online Externship Registration for a full-time externship. When you submit that Registration, an email will go to her. Contact Debbie Mondares (dmondares@law.uci.edu) to make an appointment with Dean Schroeder.

Contact the UCI Director of Externships if you have general questions about full-time externships and the UCDC Program.
Complete the UCDC application. Go to the UCDC application page to access the application form.
After submitting your UCDC Law Application, email your resume, externship statement, and unofficial transcript to Program Director Nicole Lehtman at Nicole.Lehtman@ucdc.edu and copy D'lorah Hughes at dhughes@law.uci.edu. Ms. Lehtman will contact you to schedule a phone appointment once your application is submitted. 
Step Two: Apply to the Placements that Interest You
Schedule a telephone appointment with the UCDC Law Program Director. This brief telephone conference is an opportunity for the earliest possible individual attention and advice for identifying a placement in line with your academic and professional interests and goals. Keep in mind, though, you may start applying to placements as soon as the Dean of Students has approved your UCI Externship Registration.
Read the overview of the placement process.  

All placements must be approved by the Program Director and will have to meet the criteria listed there. 
Your placement must give you substantive legal work under a lawyer's supervision, with regular feedback, mentorship, and insulation from purely clerical or administrative work.  The Program will help you confirm this structure later if you are offered a position.

Start your search.  Ms. Lehtman's assistance will be helpful, but you will also need to conduct your own research into the possibilities.

Define your goals for your UCDC experience.
Look at the growing list of Recent Placements.
Use the resources available through the CDO's Job Search Resources. See, in particular:

PSJD (formerly PSLawNet)
Government Honors and Internship Handbook

Applications.

Should include:

Resume and tailored cover letter to send to each placement host office or organization.
An explanation (in the letter) that you will be externing—without pay—through the full-time, full-semester UCDC Law Program, 40 hours a week for 14 weeks for a full term's law school credit. 

Many agencies require security clearance as part of the application process. 

This can be a lengthy process.
Apply with as much lead time as possible, even if there's no stated deadline.

Report briefly on your progress via email.  Twice a month, send brief reports to the Program's general mailbox, law@ucdc.edu, and to UCI's Director of Externships.

Indicate where and when you have applied, to whom if to a specific person.
Any interviews with names and dates.
Decisions or timing of expected decisions.
Updates on your preferences.
Thoughts on how we can help.
Include your most current contact information.
Step Three: When You Receive an Offer
When an offer comes, you must obtain the Program's approval immediately. You cannot accept any offer or enroll in the Program without this approval.    

When you get an offer, thank the placement host, letting them know the placement must be approved before you may accept. 
Contact the UCDC Director and advise her of the offer; copy the UCI Director of Externships.
The UCDC Director will contact the host office and secure its commitment to meet placement criteria. 
Once the placement is approved, the Program will notify your school and you will be permitted to register for the placement and companion course.

You are responsible for finding housing for the semester.  The UCDC website has a section on Housing Information.
You must complete a travel insurance form before leaving for DC, and email it to law@ucdc.edu, with a copy to D'lorah Hughes, dhughes@law.uci.edu. All necessary forms will be posted on these UCDC pages when available.
Back to Top of Page
Program Staff

Nicole V. Lehtman is the Director of the University of California Washington DC Law Program. Prior to joining the UCDC Law Program, Ms. Lehtman served as the first program manager and adjunct professor for the Arizona State University, Sandra Day O'Connor College of Law's Washington DC Legal Externship Program. In that position, Ms. Lehtman was responsible for counseling law students from across the country on available externship opportunities with the federal government and DC-based non-profit organizations; and provided students with support and guidance throughout their time in Washington, DC. Ms. Lehtman also has served as an adjunct professor in the Trial Advocacy program at American University's Washington College of Law.
Ms. Lehtman has extensive government experience working as a federal prosecutor in the U.S. Department of Justice. Most recently, Ms. Lehtman served as a trial attorney in the Justice Department's Criminal Division, Office of International Affairs, where she coordinated international extradition and mutual legal assistance matters involving Latin America. Ms. Lehtman previously served as an Assistant United States Attorney for the District of Columbia where she was responsible for prosecuting criminal actions in the District of Columbia on behalf of the United States. Ms. Lehtman also has worked at a private law firm in South Florida specializing in civil litigation and international arbitration.
Born in Miami, Ms. Lehtman is a native Spanish speaker whose family is from Santiago, Chile. She is a graduate, cum laude, of American University's Washington College of Law and of the University of Miami, where she graduated, with honors, with a degree in Political Science and International Studies.