Back to Top
California Department of Fair Employment and Housing Civil Rights Clinic
Students in the Department of Fair Employment and Housing (DFEH) Civil Rights Clinic gain valuable practice experience through direct participation in Department investigations, litigation and mediations. DFEH is the nation's largest state civil rights agency and is responsible for enforcing California's Fair Employment and Housing Act, Unruh Civil Rights Act, Ralph Civil Rights Act and Disabled Persons Act.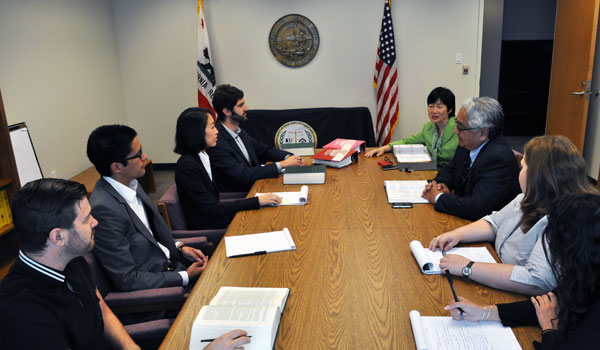 The DFEH receives, investigates, mediates and litigates complaints of discrimination based on numerous protected classifications, including race, disability, gender, gender preference and familial status. Students investigate and evaluate complaints, conduct research, draft pleadings, act as a neutral fact-finder and negotiate and settle cases in the context of civil rights enforcement. In doing this work, students personally interact with complainants, witnesses, employers, attorneys, mediators and DFEH managers. They gain experience analyzing and applying substantive civil rights law in California.
In preparing to conduct a mediation, teams of two students work independently but under the watchful eyes of an experienced attorney. Students prepare a mediation brief which includes a persuasive factual summary, citation to applicable statutory and case law, and benchmarking of comparable jury verdicts in analogous cases. Students are also expected to keep a reflective journal of their mediation experience, including their preparation for the mediation, and their post-mediation evaluation. Depending on availability, students are offered the opportunity to shadow attorneys conducting DFEH mediations prior to conducting a mediation themselves.
The Clinic's classroom component includes lectures by experienced DFEH attorneys and mediators, roundtable discussions and role playing to identify and gain insight into issues and solutions to problems as they arise in DFEH cases. Students present their investigations and mediations to the class and professor for discussion, feedback and evaluation.
---
"Mediations allow people to resolve disputes without the burdens and costs of litigation. I learned that preparation is critical for successfully navigating the mediation process and gaining credibility with a neutral mediator. Despite all the preparation, however, new issues inevitably came up. Dealing with the unexpected has strengthened my ability to think quickly and respond to new facts."
Meg Tanaka '13, Civil Rights Fellow, California Department of Fair Employment & Housing, Los Angeles
---
Ensuring Equality for All
Clinic students are encouraged to apply for a post-graduate fellowship with the department to further develop their skills as a civil rights advocate. Three UCI Law graduates from the Class of 2012, five from the Class of 2013 and three from the Class of 2014 have been awarded fellowships. Two fellows are now full-time staff attorneys at DFEH.
"The biggest case I worked on involved a city that conditionally hired a job applicant pending his medical examination. The city's doctor inaccurately determined that the applicant was disabled and unfit for the job, and the city withdrew its job offer. DFEH alleged that the city's medical examination violated Government Code section 12940(e) because the exam was not job-related and not consistent with business necessity. The case settled during mediation. A fellow Clinic student and I spent hours talking to the complainant by phone to get to know him, learn more about the facts (especially the facts related to emotional distress damages) and prepare for mediation. I was thrilled and very satisfied when it settled."
Jacob Barak '13, Civil Rights Fellow, California Department of Fair Employment & Housing, Los Angeles