Student-run family law clinic wins state award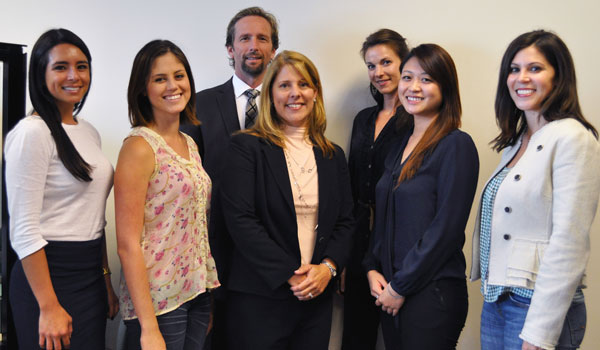 A weekly family law clinic run mostly by UCI Law students has been recognized with a Pro Bono Service Award from the State Bar of California.
The UC Irvine School of Law Family Law Blitz project is the only law school program chosen for a President's Pro Bono Service Award this year. The award will be presented at a reception in San Jose on Oct. 11, 2013.
Supervised by attorneys and volunteers at the Legal Aid Society of Orange County (LASOC), UCI Law students help clients who would not otherwise have access to family law assistance. Every Friday during the spring and fall semesters, students meet with clients at LASOC in Santa Ana and assist with paternity petitions, divorce and separation filings. Students who complete training and certification may represent clients at hearings.
The student-organized clinic evolved from a "Family Law Blitz" program initiated by LASOC in January 2012. Bill Tanner, staff attorney at LASOC, came up with the collaboration of Legal Aid attorneys and UCI Law students as a way to provide pro bono assistance in family law, one of the areas of greatest legal need.
Student Kristin Garcia ('14) participated in that first Blitz during winter break and came away inspired. She was energized by the training provided and moved by the large number of clients who came seeking assistance. At the end of the project, Garcia wanted to keep the program going. With Tanner's guidance, Garcia planned the weekly Friday clinic and scheduled fellow students to staff it.
During 2012, nearly 300 clients received assistance from more than 30 UCI Law students who volunteered their time. Students continue to participate in the Blitz and Friday clinics in 2013.
The need for family law assistance is nearly overwhelming, and the cases can be heart-wrenching, the students said. But "working with clients is such a better experience" than simply learning about family law in class, said Garcia.
Especially eye-opening and educational are the complexities of human relationships that unfold through family law. Student leader Mimi Ahn ('14) described ugly paternity cases that involved incarceration, alcohol abuse "and using the kids as leverage." She also described some clients whose concerns about the legal process and financial cost stopped them from pursuing divorce, despite being separated for as many as 10 years from their spouses.
"So many clients are so confused and emotional," said Ahn.
Garcia described one especially touching paternity case: The client had recounted to Garcia "all the things his wife did to keep his son away from him." So when the client finally won the case and was able to be with his son, it was an especially emotional moment. "It was the first time in several months that he had seen his son," Garcia said.
Garcia got her undergraduate degree in Political Science and Conservation and Resource Studies at UC Berkeley and came to UCI Law interested in environmental law. She had been inspired by her work as an intern with the U.S. Environmental Protection Agency and as a full-time employee with the California Air Resources Board. Both positions gave her an opportunity to inform and assist residents of her hometown of San Pedro, Calif., which houses part of the Port of Los Angeles. With the EPA, she educated residents about locally contaminated fish resulting from a toxic clean-up site in a nearby community. At ARB, she worked on a number of programs to reduce air pollution, including a new rule that would reduce emissions from port trucks.
A community volunteer since she was 8 years old, Garcia feels her volunteering instincts clearly drove her to propose the family law clinic, "even though it's not necessarily the field I will pursue full time after law school."
Ahn, a native of Arcadia, Calif., got her undergraduate degree in Public Relations with a minor in Business Administration at Cal State University, Fullerton. She came to UCI Law to pursue a profession that makes a "hugely positive impact on many people's lives." Now Ahn hopes to continue working at LASOC on family law cases after graduation.
She says her Family Law Blitz experience also has inspired an idea for a public education program: "If you want to teach abstinence to kids, take them to a family law hearing!"
• California Bar Journal article: "President's award spotlights outstanding leaders in pro bono work"