International Justice Clinic heads to China to continue global collaborative work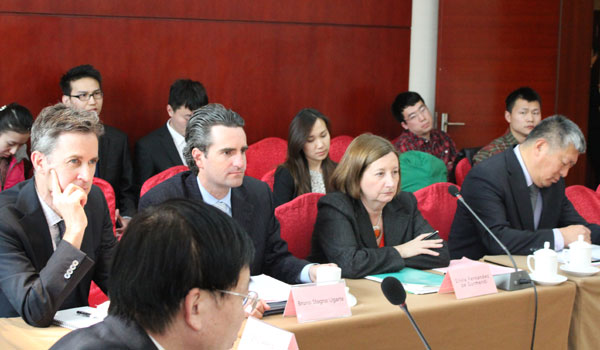 Led by Professor David Kaye, students in the International Justice Clinic traveled to China to continue global discussions about the relationship between the United Nations Security Council (UNSC) and the International Criminal Court (ICC).
The March 10, 2014 workshop in Beijing was hosted by the China University of Political Science and Law in coordination with the University of California, Irvine School of Law International Justice Clinic. One of the first events of its kind in China, the workshop aimed to identify and discuss a broad spectrum of developments relating to the relationship between the leading security institution of the UN and the leading mechanism of international justice.
Workshop panelists discussed key issues in the UNSC-ICC relationship today, the UNSC and its role regarding international justice, regional organizations and the ICC, and Russian, American and Chinese policy toward international justice.
Chinese participants included academics, foreign ministry officials, research analysts, and Judge Liu Daqun of the International Criminal Tribunal for the former Yugoslavia.
International participants included Costa Rica's former foreign minister, Ambassador Bruno Stagno-Ugarte, Judge Silvia Fernandez of the ICC, and several other academics and former policymakers from around the world. Prof. Kaye, 3L Lucy Lin, and 2L Andrew Rothenberger represented UCI Law.
This Beijing workshop was part of a long-term project for the International Justice Clinic to explore the UNSC-ICC relationship. In November 2012, in collaboration with the UCLA Burkle Center for International Relations, UCI Law hosted a similar workshop in Laguna Beach, CA. Nearly 30 participants from around the world—including academics, activists, and diplomats—discussed the two major influences shaping the UNSC-ICC relationship: How the law, norms, rules and policies of the institutions themselves structure their relationship; and how key actors on the UNSC as well as within the UN strongly influence day-to-day policies with respect to the ICC.
The Laguna Beach workshop report reviews these two categories of influences—the structural, legal framework and the UNSC/UN dynamics—before introducing a series of principles that should guide the UNSC-ICC relationship and specific steps the UNSC and its members could take to advance that relationship. The Laguna Beach report and more information is available at www.councilandcourt.org.
This was the first time that a Chinese institution hosted a workshop involving both Chinese and international leaders discussing the UNSC-ICC relationship. Many of the participants hope that this was one more step along an evolving chain of exchanges between scholars and politicians promoting understanding and cooperation transcending international borders.
UCI Law and the China University of Political Science and Law will release a report later this spring summarizing the Beijing discussions.