Practitioners and Scholars in Dialogue: What Do We Know About the Civil Justice System?
A discussion of current obstacles to access to justice and the state of research in the civil justice field.  What do we know about the civil justice system?  What do we need to know?  What barriers stand in the way of ensuring equal access to justice? And how might research help us to better understand the barriers and how best to address them?
April 28, 2017
University of California, Irvine School of Law
Supported in part by a gift from the Robert L. Habush Endowment
Participants
Dean Erwin Chemerinsky

Dean, UC Irvine School of Law
Distinguished Professor of Law
Raymond Pryke Professor of First Amendment Law
Erwin Chemerinsky is the founding Dean and Distinguished Professor of Law, and Raymond Pryke Professor of First Amendment Law, at University of California, Irvine School of Law, with a joint appointment in Political Science.

Prior to assuming this position in 2008, he was the Alston and Bird Professor of Law and Political Science at Duke University from 2004-2008, and before that was a professor at the University of Southern California Law School from 1983-2004, including as the Sydney M. Irmas Professor of Public Interest Law, Legal Ethics, and Political Science. He also has taught at DePaul College of Law and UCLA Law School.

He is the author of ten books, including The Case Against the Supreme Court, published by Viking in 2014, and two books to be published by Yale University Press in 2017, Closing the Courthouse Doors: How Your Constitutional Rights Became Unenforceable and Free Speech on Campus (with Howard Gillman). He also is the author of more than 200 law review articles. He writes a weekly column for the Orange County Register, monthly columns for the ABA Journal and the Daily Journal, and frequent op-eds in newspapers across the country. He frequently argues appellate cases, including in the United States Supreme Court. In January 2017, National Jurist magazine again named Dean Chemerinsky as the most influential person in legal education in the United States.

Dean Chemerinsky holds a law degree from Harvard Law School and a bachelor's degree from Northwestern University.

Managing Partner
Blood Hurst & O'Reardon, LLP


Mr. Blood is the managing partner of Blood Hurst & O'Reardon, a firm whose practice focuses on the nationwide prosecution of class actions on behalf of consumers, insurance policy holders and investors in state and federal trial and appellate courts. He has represented millions of retail consumers, owners and lessees of automobiles, insurance policy holders, mortgagors, credit card customers and homeowners in state and federal courts and before the Federal Trade Commission, the California Department of Justice and the California Department of Insurance. He has also lobbied on behalf of consumers in the U.S. Senate and the California legislature.

Mr. Blood has acted as court‐appointed lead counsel in many class actions in courts across the country, has tried class actions and has obtained record setting settlements. Mr. Blood obtained the largest false advertising settlement in the history of the FTC (In re Skechers Toning Shoes Prods. Liab. Litig. (W.D. Ky.))He was lead counsel in the Dannon "Activia" litigation, which resulted in the largest settlement against the food industry in a false advertising action. Recently, he secured a $3.4 billion settlement with Toyota Motor Company involving about 1.5 million vehicles whose frames are prone to rusting out. Mr. Blood has been involved in a number of appellate decisions including in cases involving consumer protection law and class action procedure

Executive Director 
Civil Justice Research Institute 
UC Irvine School of Law

Anne Bloom has a distinguished record of accomplishment in both academia and public interest law.  Before coming to UCI, she was the Director for Public Programs for Equal Justice Works in Washington, D.C. Prior to that, she was an Associate Dean for Research and Professor of Law at McGeorge Law School where she taught courses in litigation, law and politics, and public interest law.  Before becoming a professor, Anne was a staff attorney at Public Justice in Washington, D.C.  She holds both a J.D. and a Ph.D. in political science and has authored many articles on civil justice-related subjects.

Eleanor Blume

Special Assistant Attorney General
California Department of Justice



Eleanor Blume is a Special Assistant Attorney General for California Attorney General Xavier Becerra. Previously, Ms. Blume served as an attorney with the Consumer Financial Protection Bureau, the Department of Defense, and the Pew Charitable Trusts. She is a consumer fellow of the American Bar Association's Consumer Financial Services Committee and a recipient of the Department of Defense's Office of the Secretary of Defense Award for Excellence. A native of Flagstaff, Arizona, Ms. Blume is a graduate of Wellesley College and UC Berkeley School of Law.

Vice President and Managing Director
JAMS




Richard Chernick is Vice President and Managing Director of JAMS' Arbitration Practice.  He has conducted more than 1,000 large and complex arbitrations (many of them tripartite) and mediations under various rules and before major administering institutions, both domestic and international.  

He is the author or co-author of leading texts on ADR, Employment ADR and international arbitration and mediation; he is a frequent trainer and lecturer on arbitration and mediation topics.  Richard is a former Chair of the Dispute Resolution Section of the American Bar Association and the Founding President of the College of Commercial Arbitrators.  He served as the ABA's Advisor to the Revised Uniform Arbitration Act.  Adjunct professor Pepperdine Law School (former); UCLA Law School (arbitration) (former); USC Gould School of Law (arbitration) (current), and Chair of the Judith O. Hollinger ADR Program Advisory Board at USC Gould School of Law.

Associate Dean, Martin F. Scheinman Professor of Conflict Resolution
Cornell Industrial and Labor Relations School

Alexander Colvin is Associate Dean for Academic Affairs, Diversity, and Faculty Development and the Martin F. Scheinman Professor of Conflict Resolution at the ILR School, Cornell University. He is an associate member of the Cornell Law Faculty. His research and teaching focus on employment dispute resolution, with a particular emphasis on procedures in nonunion workplaces and the impact of the legal environment on organizations. His current research projects include empirical investigations of employment arbitration and a cross-national study of labor and employment law change in the Anglo-American countries. His articles have been published in such journals as Industrial & Labor Relations Review, Industrial Relations, British Journal of Industrial Relations, Personnel Psychology, Relations Industrielles, the Ohio State Journal on Dispute Resolution, and the Cornell Journal of Law & Public Policy. He is also a co-author of the textbook An Introduction to Collective Bargaining and Industrial Relations, 4th edition (Irwin-McGraw-Hill).

Professor Colvin received both the 2003 Outstanding Young Scholar Award and the 2000 Best Dissertation Award for his dissertation, "Citizens and Citadels: Dispute Resolution and the Governance of Employment Relations" from the Industrial Relations Research Association. Professor Colvin taught at Penn State University before joining the faculty of the ILR School. He received his J.D. from the University of Toronto and his Ph.D. from Cornell University.

Vice Dean Paul R. Verkuil Chair in Public Law
Professor of Law
Cardozo Law School

Myriam Gilles is the Vice Dean of Cardozo School of Law of Yeshiva University and the Paul R. Verquil Chair in Public Law.  She is a highly respected legal scholar whose work on the deleterious effects of mandatory arbitration on the rights of consumers and employees has influenced policymakers and jurists. She also writes on issues relating to complex litigation, mass torts, consumer class action litigation and procedural due process. Her scholarship has appeared in top law reviews, including the University of Chicago, Columbia, Michigan, Berkeley and the University of Pennsylvania. In 2015, Professor Gilles testified before the Senate Judiciary Committee in support of the Arbitration Fairness Act, and she has lectured and appeared on dozens of panels before judges, legislators and policymakers.   

Professor Gilles has been a member of the Cardozo faculty since 1999, teaching Torts and Elements of Law, as well as Civil Procedure, Aggregate Litigation and Products Liability Law. She became vice dean in 2016.

A graduate of Harvard University, Professor Gilles received her J.D. from Yale Law School in 1996. She was a visiting professor at the University of Virginia Law School in 2004 and a fellow in the Program of Law and Public Affairs at Princeton University in 2005. 

Founder
Gupta Wessler PLLC


Deepak Gupta is the founding principal of Gupta Wessler PLLC. He specializes in Supreme Court, appellate, and complex litigation on a wide range of issues including constitutional law, class actions, and consumers' and workers' rights. He has also taught courses on public-interest law and appellate advocacy at Georgetown and American universities. Deepak has argued before the U.S. Supreme Court multiple times and has handled appeals in every federal circuit and seven state supreme courts.

Before founding Gupta Wessler PLLC in 2012, Deepak served as Senior Litigation Counsel and Senior Counsel for Enforcement Strategy at the Consumer Financial Protection Bureau. As the first appellate litigator hired under Elizabeth Warren's leadership, he was instrumental in launching the Bureau's amicus program, defending its regulations, and working with the Solicitor General's office on Supreme Court matters. For seven years previously, he was an attorney at Public Citizen Litigation Group, where he founded and directed the Consumer Justice Project and was the Alan Morrison Supreme Court Project Fellow.

Deepak received his law degree from Georgetown, studied Sanskrit at Oxford, and received his undergraduate degree in philosophy from Fordham.

Professor of Law
Cornell Law School


Valerie Hans conducts empirical studies of law and the courts, and is one of the nation's leading authorities on the jury system. Trained as a social scientist, she has carried out extensive research and lectured around the globe on juries and jury reforms as well as the uses of social science in law.

Professor Hans is the author or editor of 8 books and over 100 research articles. Current projects on the American jury include developing a new theory of damage awards, analyzing how jury service promotes civic engagement, examining the impact of race in tort decisions, and researching the jury's role in death penalty cases. Professor Hans is also studying the introduction of juries and other forms of citizen participation in other countries, including Argentina, Japan, Korea, Russia, Spain, and Taiwan. Her books include Business on Trial: The Civil Jury and Corporate Responsibility (2000); The Jury System: Contemporary Scholarship (2006); and three coauthored books: Judging the Jury (1986); American Juries: The Verdict (2007); and The Psychology of Tort Law (2016).

Professor Hans is President of the Law and Society Association. She received her B.A. from the University of California at San Diego (1973), her M.A. from the University of Toronto (1974), and her Ph.D. from the University of Toronto (1978).

Associate Dean for Experiential Education
Professor of Law
Texas A&M Law School

Luz E. Herrera is a Professor of Law and Associate Dean for Experiential Education at Texas A&M School of Law. Dean Herrera promotes entrepreneurial efforts to address the access to civil justice gap. Before entering academia, Prof. Herrera ran her own practice and founded Community Lawyers, Inc., a non-profit organization that encourages access to affordable legal services and develops innovative opportunities for legal professionals in underserved communities. These experiences have influenced her scholarship that promotes legal "low bono" service delivery models and post-graduate support programs for lawyers starting their own law firms. Dean Herrera currently serves as a special advisor for the American Bar Association's Commission on Hispanic Legal Rights and Responsibilities. Prior to her current position, Dean Herrera was the Assistant Dean for Clinical Education, Experiential Learning and Public Service at UCLA School of Law. She has also taught as a visiting clinical professor at the University of California, Irvine School of Law, an assistant professor at Thomas Jefferson School of Law, a visiting professor at Chapman University School of Law and a Senior Clinical Fellow at Harvard Law School. In her various academic positions, Dean Herrera encouraged innovation and promoted access to justice through experiential learning. Dean Herrera is a graduate of Stanford University and Harvard Law School.

Social Science Researcher
Institute for Civil Justice, RAND Corporation


Nicholas M. Pace is a staff social scientist at the RAND Corporation. He has contributed his expertise in justice organization-related research methodologies to many projects involving the law, the courts, and judicial decisionmaking, often involving large scale, groundbreaking qualitative and quantitative data collections.  His primary interest relates to how governmental entities, corporations and other organizations, professions, and stakeholder groups operate within the context of the larger legal environment.  He has led a wide variety of studies, including an examination of pre-trial discovery costs involving electronically-stored information, an analysis of the efforts of publicly-funded defense counsel, an investigation of practices and policies in the California workers' compensation courts, an exploration of class action litigation involving the insurance industry, and an assessment of the impact of statutory reforms on costs and outcomes in medical malpractice cases.  Other work has included examining transparency issues related to class action settlements; studying the dynamics of class action litigation and recommending new managerial approaches for judges in such cases; helping to accomplish an in-depth evaluation of the Civil Justice Reform Act of 1990 and its effects on case management, cost, and delay; and analyzing jury verdict outcomes with a focus on punitive damages.  He is currently involved with a comprehensive survey of providers of services to crime victims, a review of approaches for combatting medical provider fraud in workers' compensation, a standards setting effort for indigent defense counsel workloads, an analysis of how responsibility is determined following major catastrophes, as well as an assessment of the processes by which Presidential pardons are granted.

President
Center for Constitutional Litigation


Robert S. Peck, founder and president of CCL, is among the most sought-after appellate litigators within the plaintiffs' bar. He is credited with having developed groundbreaking constitutional challenges to laws impeding access to courts. He regularly appears before the U.S. Supreme Court and state supreme courts, litigating cases on the merits as well as at the petition stage. Bob's diverse practice includes state and federal constitutional law, complex civil litigation, federal preemption, punitive damages, products liability, mass torts, consumer protection, Section 1983, and ERISA and Medicare/Medicaid reimbursement. He has previously litigated election law and First Amendment issues.

Bob has taught advanced constitutional law and state constitutional law at The George Washington University Law School and American University Washington College of Law as a member of the adjunct faculty. He is chair of the Board of Overseers of the RAND Corporation's Institute for Civil Justice; co-chair of the Lawyers Committee of the National Center for State Courts; secretary and member of the executive committee of the Board of Directors of Justice at Stake; a member of the steering committee of the Sedona Conference's working group on mass torts and punitive damages; and a delegate in the American Bar Association's House of Delegates. Bob is a past president of the U.S. Supreme Court Fellows Alumni Association and the Freedom to Read Foundation, and a past national chair of Lawyers for Libraries.

Professor of Law
UC Irvine School of Law


Professor Porter's research focuses on empirical studies of consumer bankruptcy and has been published in journals including the Texas Law Review, the Georgetown Law Journal, the American Bankruptcy Law Journal, and the Cornell Law Review. She is the author of Modern Consumer Law (Wolters Kluwer 2016) and a co-author of The Law of Debtors and Creditors (Wolters Kluwer 2014). She edited Broke: How Debt Bankrupts the Middle Class (Stanford Press 2012), which showcases interdisciplinary empirical research. With Professors Lawless, Thorne, and Foohey, she is conducting an ongoing data collection on families filing bankruptcy.

In 2012, Professor Porter was appointed by California Attorney General Kamala Harris to be the state's independent monitor of banks in a nationwide $25 billion mortgage settlement. As Monitor, she oversaw the banks' implementation of the settlement reforms and conducted extensive community outreach and education. Professor Porter founded a Consumer Protection Clinic at UCI Law to involve students in the Monitor's work.

Professor Porter has been a faculty member at the University of Iowa College of Law and a visiting professor at Harvard Law School, UC Berkeley Law, the University of Illinois College of Law, and the UNLV Boyd School of Law. She practiced bankruptcy law in Portland, Oregon, and clerked for the Honorable Richard S. Arnold of the Eighth Circuit. She earned her J.D. from Harvard Law School and her B.A. from Yale University.

Professor of Law
Codirector, Empirical Legal Studies Center
Codirector, Program in Law and Economics
Michigan Law

J.J. Prescott's research interests revolve around criminal law, sentencing law and reform, employment law, and the dynamics of civil litigation, particularly settlement. Much of his work is empirical in focus. Current projects include an examination of the ramifications of post-release sex offender laws, a study of the socio-economic consequences of criminal record expungement, an evaluation of the effects of prosecutorial discretion and decision-making on short- and long-term defendant outcomes, and an investigation into the nature and repercussions of partial settlements in civil litigation. In addition, Professor Prescott is the principal investigator of the U-M Online Court Project, which uses technology to help people facing warrants, fines, and minor charges resolve their disputes with the government and courts online and without the need to hire an attorney. Professor Prescott earned his JD, magna cum laude, in 2002 from Harvard Law School, where he was the treasurer (Vol. 115) and an editor of the Harvard Law Review. After clerking for the Hon. Merrick B. Garland on the U.S. Court of Appeals, District of Columbia Circuit, he went on to earn a PhD in economics from the Massachusetts Institute of Technology in 2006.

Chair of the Advisory Board, Civil Justice Research Institute
National Trial Chair, Member of the Executive Board, Robins Kaplan LLP



Mr. Silberfeld serves as the managing partner of Robins, Kaplan, Miller & Ciresi L.L.P.'s Los Angeles office, and is a member of the firm's Executive Board. Mr. Silberfeld has served numerous times as court-appointed lead counsel of litigation committees in multi-party, complex litigation. In Celador International, Ltd. v. The Walt Disney Company, he represented the creator of the "Who Wants to be a Millionaire?" game show in a breach of contract lawsuit against Disney and its subsidiaries, ultimately obtaining a federal jury award of nearly $319 million. 

Mr. Silberfeld's professional recognitions include being named one of the"500 Leading Lawyers in America" by Lawdragon, a "Top 100 Lawyers in California" by the Los Angeles Daily Journal, and a "Who's Who In L.A. Law" by The Los Angeles Business Journal. He was named a "Power Lawyer" by The Hollywood Reporter and a "Winning Litigator" in The National Law Journal. He was named one of the "California Attorneys of the Year" by California Lawyer and given the "Excellence in Advocacy Award" by the Beverly Hills Bar Association. He has been named a Southern California Super Lawyer since 2004. Mr. Silberfeld is currently a board member and former Chair of Public Counsel, the nation's largest pro bono law firm.  Loyola Law School named Mr. Silberfeld "Trial Lawyer of the Year," and Public Counsel awarded him with its Founders Award for his commitment to justice, an award only awarded five times in the past 45 years.

Mr. Silberfeld is a member of the Commission for Impartial Courts, the California Task Force on Judicial Selection and Retention Committee, and is on the Board of Overseers for Loyola Law School. Mr. Silberfeld graduated with a B.A. from the University of California, Los Angeles and holds a J.D. from Loyola Law School.

Crystal Eastman Professor of Law
Faculty Director, Civil Jury Project
NYU School of Law

Catherine Sharkey is the Crystal Eastman Professor of Law at NYU School of Law and a faculty director of the Civil Jury Project at NYU. She is one of the nation's leading authorities on the economic loss rule, punitive damages, and federal preemption. She has published more than 50 articles, essays, and book chapters in the fields of torts, products liability, administrative law, remedies, and class actions. Sharkey is co-author with Richard Epstein of Cases and Materials on Torts (11th edition, 2016) and co-editor with Saul Levmore of Foundations of Tort Law (2nd edition, 2009). She is a founding member of the World Tort Law Society, established in 2012, and an elected member of the American Law Institute. Sharkey is an appointed public member of the Administrative Conference of the United States and an adviser to the ALI Restatement Third, Torts: Liability for Economic Harm. She was a 2011-12 Guggenheim Fellow. Sharkey received her BA in economics summa cum laude from Yale University. A Rhodes Scholar, she received an MSc in economics for development, with distinction, from Oxford University, and her JD from Yale Law School, where she was executive editor of the Yale Law Journal. After clerking for Judge Guido Calabresi of the US Court of Appeals for the Second Circuit and Justice David H. Souter of the US Supreme Court, Sharkey practiced appellate litigation before joining the faculty of Columbia Law School. She came to NYU School of Law in 2007.

Professor of Law
St. John's University School of Law



Jeff Sovern is a professor of law at St. John's University School of Law, where he has taught and written about consumer law for thirty years.  He is the co-author (with John Spanogle, Ralph Rohner, Dee Pridgen, and Christopher Peterson) of Consumer Law (4th ed. 2013), a West casebook. His numerous law review articles on consumer law have been cited hundreds of times. His op-eds have appeared in The New York Times, Boston Globe, USA Today, Christian Science Monitor, American Banker, New York Daily News, Pittsburgh Post-Gazette, CNN.com, Politico, The Hill, and elsewhere. He also serves as co-coordinator for the Consumer Law & Policy Blog and editor of the LSN Consumer Law eJournal. The American Council on Consumer Interests awarded him the Russell A. Dixon Prize in 2002 and the 2010 Applied Consumer Economics Award.

Professor of Law
UC Irvine School of Law


Professor Talesh is an interdisciplinary scholar whose work spans law, sociology, and political science. His research interests include the empirical study of law and business organizations, dispute resolution, consumer protection, insurance, and the relationship between law and social inequality.

Professor Talesh's most recent empirical study addresses the intersection between organizations, risk, and consumer protection laws, focusing on private organizations' responses to and constructions of laws designed to regulate them, consumers' mobilization of their legal rights and the legal cultures of private organizations.

Professor Talesh's scholarship has appeared in multiple law and peer-reviewed social science journals including Law and Society Review and has won multiple awards in Sociology, Political Science and Law & Society.

Professor of Law and Political Science
UC Irvine School of Law



Christopher Whytock is Professor of Law and Political Science at the University of California, Irvine, and a faculty affiliate and member of the advisory board of the UCI Center in Law, Society and Culture.

In 2013, the American Law Institute appointed Professor Whytock to serve as an adviser on the new Restatement (Fourth) of the Foreign Relations Law of the United States, and in 2014 the ALI appointed him to serve as an associate reporter for the new Restatement (Third) of Conflict of Laws.

Professor Whytock's research focuses on transnational litigation, conflict of laws, international law, and the role of domestic law and domestic courts in global governance. His scholarship has appeared in law journals including Columbia Law Review, Cornell Law Review, New York University Law Review and University of Pennsylvania Law Review, and peer-reviewed social science journals including International Security. His books include Research Handbook on the Politics of International Law (co-edited with Wayne Sandholtz), Transnational Law and Practice (with Donald E. Childress III and Michael D. Ramsey) and Understanding Conflict of Laws (Fourth Edition) (with William M. Richman & William L. Reynolds).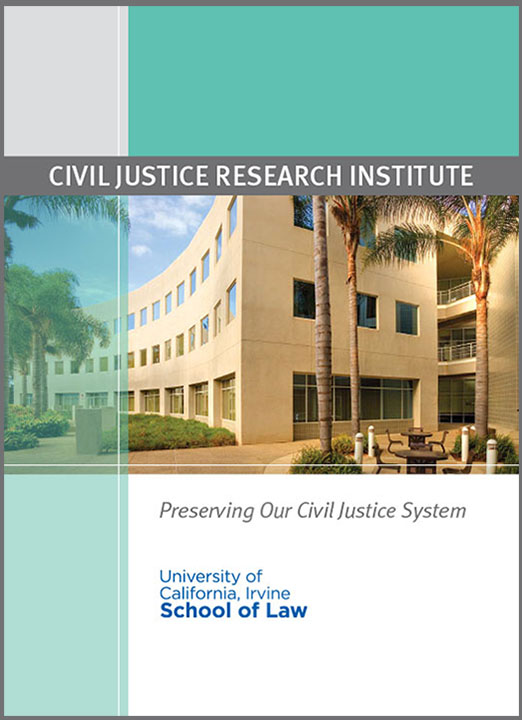 View the Brochure (PDF) >